Merry Christmas to all who celebrate! I hope that you had a wonderful holiday! As my last Christmas-themed post of the season, I thought it would be fun to talk about my favorite Christmas specials. Y'all know my preference for TV over movies, and this time of year, that's no different. I'll watch some Christmas movies, especially if they're just on TV so they have commercials (aka built-in bathroom breaks!), but overall, I revisit all of the holiday specials that I've basically been watching all year as I rewatch my favorite series. #noshame
In case you couldn't tell, there will be spoilers in this article, so just be wary of that before you continue reading! But really, these have been out for a while, so if you haven't seen them, it's kinda your fault. Just saying…
How I Met Your Mother
Season 2, Episode 11 — How Lily Stole Christmas
As you all know, I watch a lot of TV. I love fully understanding the characters with their varied and quirky traits as well as their development throughout the series. One of my favorite things in any show, book, or other type of media is when there is a deeply connected platonic pair. It may be the poly person in me, but I love when two friends, who are obviously just friends, comfortably reveal the depth of their platonic feelings for each other. It makes me feel all warm and fuzzy inside.
In this episode, we get a (in my opinion) rare sight of this when Ted has trouble forgiving Lily for leaving the previous year. Lily takes down all of the Christmas decorations in Ted and Marshall's apartment and moves them to her own because she is upset because she heard Ted call her a "grinch" (but not actually a grinch, this word is just his coverup for a much worse word he called Lily) on Marshall's answering machine from when she left him to go study art across the country. Lily's departure definitely shook Marshall, her husband to be, the most, and turned his world upside down, but Ted points out that Marshall wasn't the only one missing Lily.
Lily can't comprehend why Ted is still mad at her, as she has properly apologized to Marshall and they have moved on. Ted explains that he wasn't given an apology or a discussion about Lily's leaving once she came back. And as her friend, he missed her and worried about her too. It's not only your romantic relationships that can suffer, folks!
Also, the use of "Grinch" instead of the actual foul word that Ted once called Lily (as an homage to A Christmas Story) is cute and charming. It follows the theme of Ted trying to make the story of how he met his future children's mother PG, even in times when it wasn't.
Brooklyn Nine-Nine
Season 3, Episode 10 — Yippee Kayak
Brooklyn Nine-Nine has historically always handled holiday episodes well. With a Halloween, Thanksgiving, and Christmas episode in almost every season, if you're looking for holiday cheer, Brooklyn Nine-Nine is a pretty good go-to show.
This episode in particular has everything I want out of a Brooklyn Nine-Nine episode: lots of Gina, Jake being clever and sassy, and Terry being protective of his squad as well as an all-around badass. This episode finds Jake, Boyle, and Gina trapped in a department store by robbers while Jake shops for a last-minute present for Boyle under the guise of shopping for Amy, because as we know, "it would have crushed Boyle's heart and ruined their friendship" if Jake forgot to get him a present. His words.
I love intensity when I'm watching my comedy TV, and this episode will have you holding your breath the entire time, as you try not to make too much noise and alert the on-screen robbers that there are shoppers left in the store. No one in the actual show seems to be taking this emergency particularly seriously, however, what with Jake living out his own Die Hard fantasy (which Boyle accidentally mocks with his awful and mis-quoted John McClane impression), and Gina threatening to make a flamethrower out of some hairspray and a lighter.
Between the intensity, the laughs, and the squad love, this episode is one of my favorite episodes of the series, Christmas episode or otherwise.
NINE-NINE!
The Office
Season 2, Episode 10 — Christmas Party
Season 6, Episode 13 — Secret Santa
As you can see, this choice was not the easiest for me. With seven Christmas episodes, The Office has a lot to choose from, each with their own brand of awkward hilarity. Nevertheless, I was able to narrow it down to these two, but that's as far as I'll go. Don't make me narrow it down more, I'm begging you!
In both of these episodes, we see Michael as the proverbial Grinch, stealing the enjoyable Christmas party right out from under the rest of the gang because something didn't go his way.
In "Christmas Party," Michael is bent out of shape because he is the only one who went far above and beyond the secret Santa spending limit to get Ryan an iPod, hoping that this would somehow gain the unrequited admiration (for lack of a better word) that he has for Ryan. When Michael opens a homemade oven mitt from Phyllis, he decides to turn their secret Santa into a yankee swap, very obviously upset with his gift. While Phyllis takes a moment to herself, everyone else takes turns opening and trading gifts that were clearly meant for other people. Some highlights include a decorated name plate with Kelly's name on it (opened by Ryan) and a poster of babies dressed as Jazz band members originally meant for Angela (opened by a disturbed Toby).
So for those of you keeping score, that's one creeped-out Ryan, one upset Phyllis, and several other disgruntled Dunder Mifflin employees. No partridge in a pear tree necessary.
The Secret Santa episode really pits Michael and Phyllis against each other when he finds out that Jim and Dwight (the new heads of the party planning committee) have told Phyllis that she can be Santa at the office Christmas party. Obviously, this cannot stand, so Michael dresses up as the only person who can trump Santa on Christmas — Jesus Christ. And what does Jesus Christ do when everyone still ignores his attempt to upstage Santa? Harasses everyone at the party using a karaoke machine with a mic, of course! Yes, in this episode, Michael takes his hissy fit to divine proportions.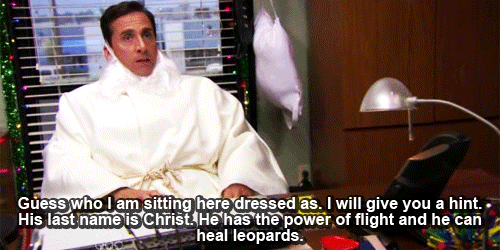 Moroccan Christmas would most likely have made it onto this list if not for the intervention storyline. I love the rest of that episode, but the intervention and subsequent dragging of Meredith to a rehabilitation center is really not enjoyable for me.
New Girl
Season 2, Episode 11 — Santa
When choosing this episode, I literally googled "the episode where Schmidt calls Christmas 'White Anglo-Saxon Winter Privilege Night' because that is all I need to make a great episode. All of the New Girl episodes have some awesome quirky antics, but that line is probably one of my favorites in the series.
That doesn't demean the rest of the episode, however. While the gang is visiting several different Christmas parties, we get to see Jess freak out over her ex, Nick freak out over his current girl, and Winston, in incredibly Winston fashion, freak out because he gets a cranberry stuck in his ear. Not to mention that we hear one of the infamous jabs about Winston's mustache. "I would trade places with you in a minute…except for the mustache."
Actually, Winston is the one who cracks me up throughout the episode. Whether he is saying a deaf and well-placed "What?!" or dumping Jess in their fake relationship (which Jess devised to trick her ex Sam…because sitcoms), I laughed out loud almost every time Winston opened his mouth.
But seriously, White Anglo-Saxon Winter Privilege Night. Amazing.
I would love to hear your thoughts on these episodes as well as some of your favorites! Merry Christmas, everyone!